CONVENIENT LOCATIONS!
Portsmouth Location
55 miles from Boston's
Logan Airport
Just 48 miles from the
Manchester NH. Airport
Our
Manchester location
2 miles from the
Manchester NH Airport
Only 46 miles from
Boston's Logan Airport
Our
Nashua location
11 miles from the
Manchester N.H. Airport
Only 38 miles from
Boston's Logan Airport

Licensed New Hampshire Court Reporters

Court Reporting | Video Services| Real-Time Reporting
Videoconferencing | Web Conferencing | Transcription
1-800-600-1000
Mailing Address: P.O. Box 1658 - Dover, NH 03821
** Free Conference Rooms **
(Click the yellow tabs below for more information on each location.)
Manchester

Portsmouth/Dover/Rochester Area

Downtown Portsmouth

Nashua


(There is a $50 fee for use of these conference rooms)
Concord, NH

North Andover, Massachusetts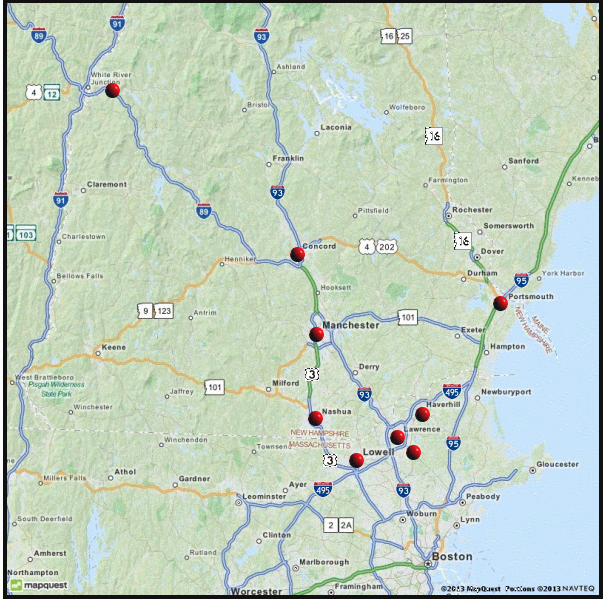 ---
603-743-4949 FAX: 603-743-4952
Duffy & McKenna Court Reporters is comprised
of experienced licensed professionals committed to
providing the best possible service to our clients.
* As of July 1, 2007, anyone engaging in court reporting
in New Hampshire must hold a valid license.
See RSA 310-A:161-181
New Hampshire
Cities Served









Massachusetts
Cities Served





Traveling?
Member of the National
Court Reporters Association,
promoting excellence among
those who capture and convert
the spoken word to text.